MD/PhD Program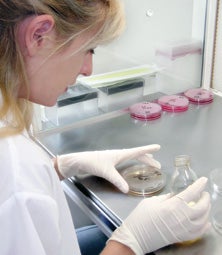 The Tumor Biology Training Program participates in a combined-degree program, which affords students the opportunity to work simultaneously toward both the M.D. and Ph.D. degree.
The M.D./Ph.D. Program is intended to have sufficient flexibility to accommodate candidates with various backgrounds – the prior experiences and future needs of the students guide the selection of graduate and medical electives and the timing of core courses and research rotations. M.D./Ph.D. students are admitted to the combined-degree program via an undifferentiated mechanism, and generally defer the selection of a sponsoring degree-granting program until at least the end of the first year of training.
The Tumor Biology Ph.D. program requires that a total of 33 credit hours. However, certain medical courses would apply toward the Ph.D. program. After completing the Ph.D. course requirements, each student must pass an oral and written qualifying examination before commencing thesis research. At the completion of thesis research, students return to the third year of the medical school curriculum to complete their clinical rotations.
For more information visit the School of Medicine site.