Master of Science in Tumor Biology
Fall 2024 Admissions
Early Application: October 15
Priority Application: May 15
Final Deadline: July 1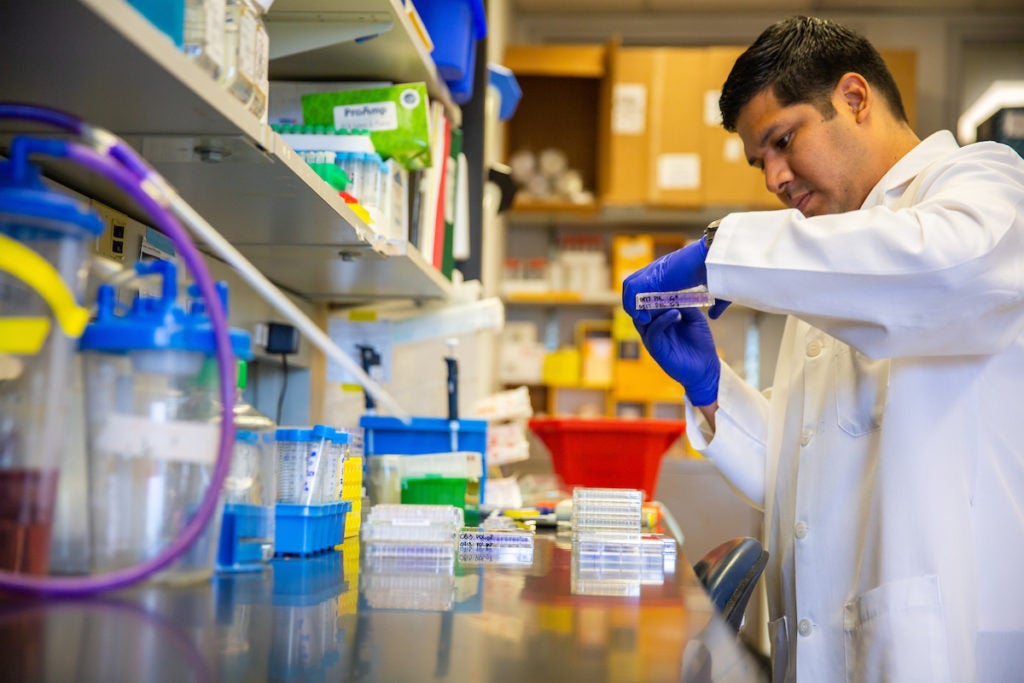 Our research and clinical faculty have strengths in a wide range of topics in oncology, including treatment and prevention of breast, prostate and colon cancer, drug resistance, drug development, cancer vaccines, childhood cancers, and brain cancers. The MS in Tumor Biology program is a one-year program with admissions in the fall semester. The formal requirements for an MS degree in Tumor Biology are the completion of 30 graduate credits and a laboratory experience (Cancer Research Techniques) over two semesters.
What You'll Learn
Students will learn basic concepts in cancer biology. Topics include biochemistry, pharmacology, prevention and methodology specific to cancer research. Students will be trained in basic laboratory techniques and will be expected to complete a research project. Graduates from our program will have a comprehensive understanding of the underlying mechanisms of cancer progression and the existing clinical challenges in treating this disease.
In addition to in-class courses, students are required to complete a Laboratory Research Project (TBIO 7050/7060) that spans both semesters. Students are matched with a cancer researcher at Lombardi Comprehensive Cancer Center based on mutual preferences. In the laboratory, students receive hands-on training for planning and conducting experiments to answer key questions in cancer biology. Common techniques learned include methods in cell culture, molecular biology (analysis of DNA, RNA, proteins or metabolites) or in vivo models of cancer.
The Masters of Science in Tumor Biology has two tracks – Standard Tumor Biology Track and Cancer Systems Biology Track. Click the tracks below for more information on each.
Standard Tumor Biology Track
This track provides students with an interdisciplinary concentration in the study of Tumor Biology as well as laboratory experience.
Required Course for the Standard Tumor Biology Track:
TBIO 6536: Cancer Pharmacology
Cancer Systems Biology Track
The Cancer Systems Biology track introduces students to current theories and promising new "-omics" tools to study the dynamics of carcinogenesis.
Students will gain laboratory experience in a Georgetown University Medical Center laboratory that focuses on a systems biology approach to cancer research.
Required Courses for Cancer Systems Biology Track:
TBIO 6530: Systems Biology & Bioinformatics
SYSM 5910: Biomedical informatics
SYSM 5940: Translational Bioinformatics
Career Advancement
Our students benefit from the services of the Biomedical Graduate Education career office, including one-on-one advising, skills workshops, leadership programs and more to help them take the next step in their professions.